Action in Brussels – End EU economic ties with G4S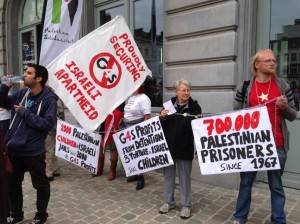 Dozens of activists took to the streets on June 26 to inform people in the area around the  European institutions about G4S' complicity in the detention of Palestinian children. The activists denounced the fact that G4S is still being awarded contracts even when its  complicity in the deten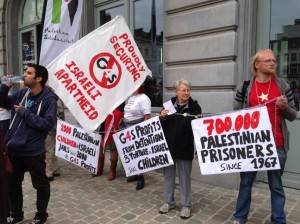 Dozens of activists took to the streets on June 26 to inform people in the area around the  European institutions about G4S' complicity in the detention of Palestinian children.
The activists denounced the fact that G4S is still being awarded contracts even when its  complicity in the detention and torture of children by Israel has been documented extensively.
MEP's came out in support of the demonstration at which Addameer, a renowned Palestinian human rights organisation was represented by Sahar Francis– to stress the urgency of the matter.
Paul Murphy - Irish MEP said: "I`m here to support the protest against an ongoing contracting services to group for security G4S in European Parliament and in Luksembourg in particular. G4S is involved in management and running of many prisons in Israel where Palestinian prisoners are held"
"G4S is involved actively in the opression of Palestinians. We need to build a big movement within Europe opposing those who profits from the  occupation" – he added
G4S is the world's largest private military and security company. One of the issues receiving worldwide media attention is G4S' provision of services to the Israeli police, Ministry of Defence, Prison Service, army, as well as to businesses in settlements.
G4S also provides security services to the detention and interrogation facilities of the "Russian Compound" in Jerusalem and the "al-Jalameh" detention centre next to Haifa where Palestinian teens are interrogated.
In their latest report UN Committee on the Rights of the Child confirms that " Palestinian children arrested by (Israeli) military and police are systematically subject to degrading treatment, and often to acts of torture, are interrogated in Hebrew, a language they did not understand, and sign confessions in Hebrew in order to be released,"
In March 2013 the European Parliament issued a resolution condemning Israel for using torture and calling for a fact-finding mission to investigate Israeli prisons. But at the same time the EU is in fact condoning G4S' policy to profit from human rights abuses against Palestinians by continuing to award contracts to G4S. G4S renewed its contract with the European Parliament for its Luxembourg properties, in a deal worth 48 million euros- 15.9 million euros more than the 2008-2012 tender.In January last year – just before the third armed hold-up in the parliament – the European
Commission awarded its security work to G4S for 237.8 million euros, ending its previous arrangement with Securitas.
They therefore called the EU institutions to end their cooperation with G4S and actually start an independent investigation towards this corporation.
http://www.eccpalestine.org/action-in-brussels-end-eu-economic-ties-with-g4s/